The 5km Run
---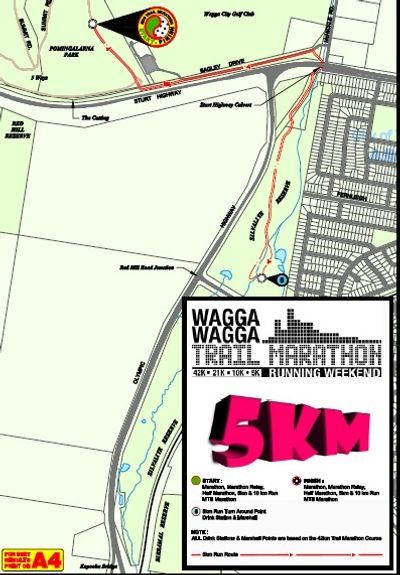 The perfect starting event for anyone new to running looking for a quick weekend activity.
From the start line located in Pomingalarna Park, head 350m along the dirt road towards the main entrance gate to Pomingalarna Park.
Go through the main gate veering left keeping on the dirt track until it merges on to Bagley Drive.
Continue along the right-hand side of Bagley Drive until opposite the Waterworks.
Turn right off Bagley Drive down a single dirt track and go through the tunnel under the main highway.
Continue out of the tunnel for approximately 100m, turning left into Silvalite Reserve through the turnstile.
Proceed along the single track until you get to a Y intersection.
Take the left exit along the single track until you get to the marked sign saying to turn right down the gully (there will be a volunteer at this point).
Go through the gully veering right along the single track until two tracks meet proceed straight through.
Exit through the turnstile at Silvalite Reserve.
Turn right and head towards the tunnel under the highway, then turn left on to Bagley Drive and continue to run on the left-hand side of the road.
Continue on to the dirt road heading into Pomingalarna Park, turning right into the main gate and head straight along the dirt road to the finish line.